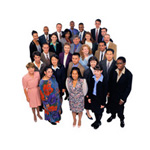 A Brief History of our Credit Union
First of all, we will need to start with the present. IN august 2003, the Credit Union changed its name to "New Horizon Credit Union."
The original name of "Hyster Danville Employees Credit Union" was established September 30, 1946 as a state Chartered Credit Union and located in the old Fab Bldg. On Voorhees St., Danville, IL. At that time, only employees of Hyster Co. and their immediate family were eligible to join the Credit Union.
In January 1982, the Credit Union moved to 1026 E. Fairchild St., Danville, IL. Then in November 1988, the Credit Union moved to it's new building and present site at 1019 E. Fairchild St., Danville, IL. The Credit Union has expanded the membership and services. Our field of membership consists of employees of NACCO MHG (formerly Hyster Co.); New Horizon Credit Union; Opportunity Specialist Inc. (OSI); Heath's Automotive; Kelly Wilburt Valut Co.; Ore W. Vacketta & Sons, Inc. & Dyna Fab Corp. and their family members.
We have changed our name to expand and to continue to grow, but our principal belief of "people helping people" has not changed. The Credit Union is a full service financial institution and we are here to help you through all of your financial needs.